Base & Area
Whether you arrive by plane or by car – due to the highway and the airport (25 km away from Split – 100 km away from Zadar), the Marina Kremik is easy to reach.
Special offers
Your search did not produce any results
Where are we
Contact centre
Contact centre

Austria:
Booking Wien
Tel: + 43/ 1 / 799 23 45
Fax: +43/ 1 / 799 23 45 - 417

Croatia:
Marina Kremik Primošten
Tel: + 385 / 22 / 555 555

Germany
+49 (0) 7531 892 624 52

Switzerland
+41 (0) 71 511 37 97

Working hours

Office hours Wien:
Tue - Thu 08:30 - 17:00

Office hours Primosten:
Mon - Sun 08:00 - 17:00

Skype
NEW - 360° view tour
We made ​​a 360 ° view tour for our yachts, so you can go on a virtual walk through the yachts.
It´s a perfect way to see the whole yacht.
Earlly bird discount
Early bird discount 2018!

More Info!
From now on, you can conclude your charter, travel cancellation and skipper insurance by clicking the following link!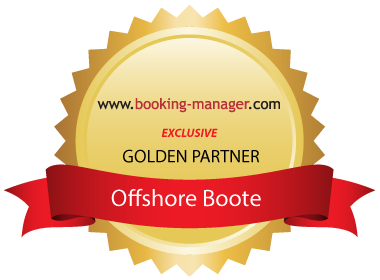 Welcome
Offshore-Boote - your partner for the ideal vacation at one of our motor yachts!
As a charter company we deal with a valuable commodity - your vacation. Your dreams, desires and needs - we try to fulfil them with our know-how. Our capital, on one hand, is our fleet, the largest that can be found on the Adriatic and on the other hand, our experience from over 20 years of charter business. Read more about us, our yachts, the charter area and your dream vacation.
Our fleet
Free Practice Training
Every year in April, May and September, during five to six weekends, our popular practice and skipper trainings take place. Experienced skippers show participants all important issues of the motor yacht sport and they can learn all important manoeuvres in a relaxed atmosphere.
Free WiFi & Tablet
Not only is our base equipped with FREE WiFi, but all our yachts are always online when you want. Everywhere on the Croatian coast, where you can have cell phone reception you can surf with your smart phones, iPads, Android tablets and laptops - for free! High roaming charges are a thing of the past.
Boats Suitable for Water Skiing
If you are looking for some action, you will be very happy with our water ski boats. The 6.40 m to 6.45 m long rigid inflatable boats "Brig Eagle 645 & AGA Marine / Spirit 640" with 175 hp engines will leave you perfectly happy and are ideal for every kind of water sports.
Yachts up to 40% more Favourable
A vacation on a motor yacht in Croatia is an amazing experience which we want everybody to experience - even if the vacation savings are not so abundant. For price-conscious customers, we offer not only our new yachts, but also our older models which don't lag behind in terms of quality and comfort compared to their "younger sisters".
No fear of high diesel costs!
To save more than 50%!
Do you actually know that a yacht, no matter if it is a glider, SEMI DISPLACEMENT or displacer, in a cozy slow speed (8-10 knots) uses very little fuel.
You might think, a slow speed is not enough to see everything you want to see during your holiday. Beautiful fishing villages, interesting towns or beautiful bays.
However, this is not true. Our base in the Marina Kremik is suitable as a starting point for a trip ideal. In the immediate vicinity there are all the things you want to see.
We have compiled for our charter guests various Yachtcharter Itineraries, all with one goal: In one week, to go no more than 100 nautical miles with the yacht and still be in a different place every day. Be it into a beautiful bay, or a city or in a port. There are Itineraries leading north in the Kornati islands, but also those that lead south to the islands of Solta, Brac, Hvar and Vis.
If they follow our Yachtcharter Itineraries, you will have a wonderful stress free holiday, each of the size of the yacht with a maximum of € 250 to € 500 beats his diesel costs to book.
Therefore: speed, when it is only necessary or if you enjoy it.
P. S. The difference between a fast planing or a cozy trawler speed is up to 50% per nautical mile ..